Paul's Story
Paul's dedication and stellar performance at his part-time job through the AbilityOne program landed him a full-time job as a production associate at the Goodwill Outlet.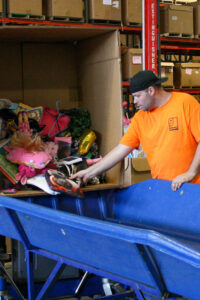 Paul walks 10 to 15 miles a day, five days a week. He's not training for a walkathon; rather, he's a production associate at the Goodwill Outlet on 72nd and F streets in Omaha. The Goodwill Outlet is where you'll find Goodwill Omaha's last-chance items and overflow furniture. Most items are placed in large blue bins, which Paul and the other production associates wheel from the retail operations center out to the Outlet sales floor and switch out at specific intervals throughout the day. Enthusiastic bargain hunters fill their carts with the day's treasures, which they purchase by the pound (except for furniture).
After high school, Paul became a groundskeeper in AbilityOne, Goodwill Omaha's federally funded program that provides part-time job opportunities for people with disabilities. Paul held this position for nearly 11 years. In 2019, when Goodwill Outlet manager Dakota, who knew Paul and his strong work ethic, heard that the grounds contract was ending, she told him she wanted to hire him. Paul was excited at the opportunity and the chance to learn new things at the Outlet.
In Goodwill Omaha's Retail Operations Center, or, as we affectionately call it, the ROC, Paul is constantly on the move sorting last-chance items into large blue bins, which he wheels to the Outlet, and moving palettes of furniture from the ROC to the Outlet sales floor. He also salvages items and furniture that are broken, torn, and otherwise too damaged to sell in the Outlet.
Although he noted, "I'm not outside anymore. I'm used to being outside all the time," Paul said he's getting more accustomed to being indoors now and he likes working at the ROC. Dakota is even cross-training him to work in the Outlet store, giving Paul a chance to learn the customer service aspect of Goodwill.
Paul said he enjoys his new responsibilities and tasks — as long as he still gets to do his favorite part of his job at the Outlet: operating the trash compactor. He animatedly talks of how he relishes the way it smashes everything inside the hopper. And, when the compactor is too full and excess items fall out as the driver empties the hopper, Paul grabs a shovel, scoops everything back inside the hopper, and goes about his other tasks, always looking forward to the next time he can run the compactor.