Reduce Your Carbon Footprint at Goodwill
ONE OF MANY BENEFITS OF DONATING USED GOODS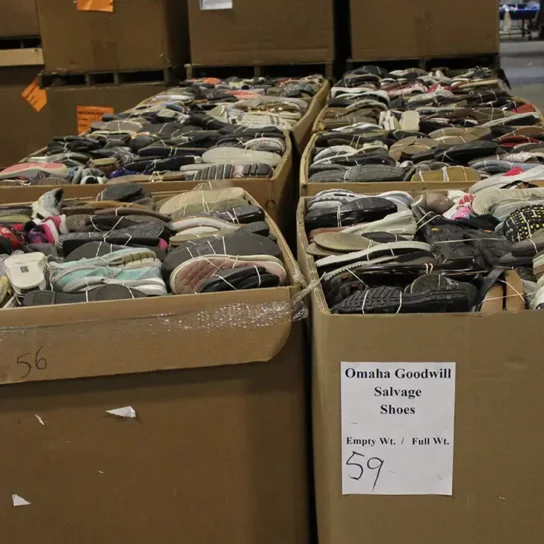 Goodwill is inherently environmentally friendly. Donating your used goods to Goodwill keeps unwanted items out of landfills and prevents the production of unnecessary new materials.
Goodwill's retail operations team, stationed at our retail operation center (ROC), oversees our recycling efforts, and the recent output has been massive. Goodwill Omaha's recycling bins continue to route materials out of regular trash receptacles and into more appropriate channels.
When we receive items that can't be sold in our stores, we recycle as many of them as we possibly can. This includes clothing and textiles, shoes, books, electronics, and computer equipment.
And our greenness isn't limited to recycling! Our Blair location is LEED-certified. LEED stands for Leadership in Energy and Environmental Design, and it's a third-party verification of the environmental friendliness of construction. We've also incorporated energy-saving technology in our buildings, which includes LED lighting and bulbs, motion-activated lights, and eco-friendly toilets.
Our Commitment to Sustainability
In 2022 alone, Goodwill Omaha's sustainability impact included:
5,743,055

Pounds Of Clothing And Textiles Recycled And Kept Out Of Landfills

486,981

Pounds Of Metal Recycled And Kept Out Of Landfills

446,643

Pounds Of Electronics Recycled And Kept Out Of Landfills

117,121

Pounds Of Shoes Recycled And Kept Out Of Landfills
Add to the Impact
Want to support an organization committed to sustainability efforts? Here are some ways you can get involved.
Donate Money
Every penny counts! Your financial donations allow us to continue to operate our life-changing employment programs.
Donate Goods
By donating your gently-used goods to our retail stores, you're helping fund our mission programs and giving back to neighbors in need.
Shop at Goodwill
From clothing and furniture to antiques and computer equipment, you never know what you'll find at Goodwill! Ready to shop?