What We Believe
Mission

Goodwill changes lives & strengthens communities through education, training and work.

Vision

Empowering individuals to realize their maximum potential through the power of work.

Values

Customer Focused, Integrity, Accountability, Responsible Stewardship, Respect, and Dignity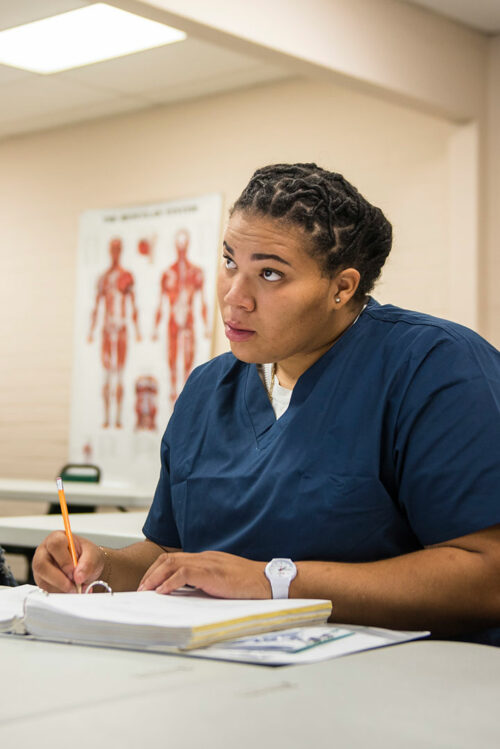 Goodwill Omaha
Breaking Down Barriers to Help People Discover Their Full Potential
Many people know Goodwill Omaha as a place to donate used clothing and household items or find great bargains. But you might not know the mission at the heart of our organization: providing job training and placement services to people with disabilities and other barriers or disadvantages. At our core, we're passionate about eliminating barriers to opportunity and expanding access to necessary job training and placement services.
Here's How It Works
The Donation Lifecycle
| | |
| --- | --- |
| STEP ONE | You donate your gently used items to Goodwill Omaha at any of our donation centers. |
| STEP TWO | We process, clean, sort, and then sell these items in our retail stores. |
| STEP THREE | The proceeds from those retail sales go on to fund our employment training, certification, and placement programs. Specifically, the funds help us employ people to perform training, purchase supplies, and cover standard operational costs that keep our programs up and running. |
| STEP FOUR | Thanks to the revenue generated by your donation, our programs give thousands of people in the Omaha area the chance to earn a living, discover independence and succeed in life. In 2021 alone, 13,610 employment services were provided to individuals in our community! Our Impact |

Still have questions? We understand—our model isn't the most common. We're committed to transparency and have done our best to address common questions.
Affiliations & Accreditations
Goodwill Omaha is a private, not-for-profit 501(c)3 agency governed by a local board of trustees. We are a member agency of Goodwill Industries International of Rockville, Maryland. We're proud to be affiliated with a number of agencies and organizations that are committed to equitable employment, ethics, and transparency.
Our Leadership Team
Tobi Mathouser

President & CEO

As president and CEO, Tobi oversees the day-to-day operations and strategic direction of Goodwill Omaha's mission programs, federal contracts and retail organization. Tobi began her career with Goodwill as a mission program coordinator in October 2006. Since then, she has served in a variety of positions, including organizational development manager, federal contracts director, and director of mission advancement.

Tobi is a member of Vistage® Worldwide, Rotary Club of Omaha, and a trustee of the Business Ethics Alliance®, which promotes an environment where the discussion and practice of ethics are encouraged and expected in our community.

In 2017, Tobi enrolled in Goodwill Industries International's Executive Development Program, a globally respected, award-winning program designed to mold experienced leaders within Goodwill organizations. She previously earned her bachelor's degree in criminal justice and sociology from the University of Nebraska–Omaha, and she is a graduate of Goodwill Industries International's Senior Leadership Program.
---
Elaine Leibert

Senior Vice President of Mission Advancement

Janelle Peterson

Senior Vice President of Retail Advancement

Erin Blackledge

Senior Vice President of Administration

Matt Mainelli

Vice President of Organizational Development
---
Sarah Alba

Director of Mission Programs- South

Shantel Featherson

Director of Retail Operations

Francisco "Paco" Fuentes

Director of Community Outreach

Deb Hermann

Director of Development & Marketing

Marilyn Sims

Director of Mission Programs–North

Ryan McCarthy

Director of Finance

Tina McGaugh

Director of Human Resources

Gary Utz

Director of Contracts
---
Board of Trustees
Joel Dougherty

Board Chair

Joel has served on Goodwill's board since 2019. He is the COO at OneWorld Community Health Centers.

Leah Vetter

Vice-Chair

Leah joined Goodwill Omaha's board in 2021. She is the area president of the Heartland Branch at Gallagher Benefit Services, serving the territory in Nebraska, Iowa, and South Dakota
---
Bob Bertsch, Jr.

Secretary

Bob has served on Goodwill's board since 2016. Bob is the senior vice president wealth advisor at Union Bank & Trust (UBT).

Doug Anderson

Chair Emeritus

Doug has served on Goodwill's board since 2019. He is the vice president of operations at Percipio Partners and chief operating officer at Harvest Development.

James H. Rich

Board Trustee

Jim has served on Goodwill's Board of Trustees since 2017. He became the board's chairman in 2019. Jim is the founder of Percipio Partners

Aaron Johnson

Board Trustee

Aaron joined Goodwill Omaha's board in 2021. A partner at Baird Holm LLP and chair of the firm's Corporate Section, he primarily practices in the areas of commercial lending, real estate, and corporate finance.

Juan Padilla

Board Trustee

Juan joined Goodwill Omaha's board in 2022. He is the community development manager at Canopy South, a nonprofit helping to revitalize neighborhoods in south Omaha.
Learn More About Us
We are committed to transparency in every facet of our organization. Explore our strategic plan and learn more about our financials below.