October 28, 2021
Make Your Home Spook-tacular With These 15 Easy Halloween Décor Projects
Make Your Home Spook-tacular With These 15 Easy Halloween Décor Projects
The ghouls, goblins, and ghosts have come out to play this October, which means Halloween is soon approaching. Before the spooky season is gone for another year, make sure you've decorated your home to embrace all that Halloween has to offer. But, making a spook-tacular home doesn't have to take an eternity.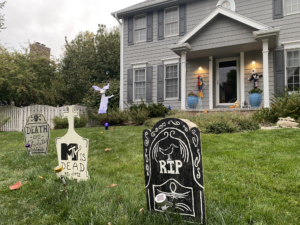 We've summoned 15 experts for their advice on easy Halloween décor projects you can put together in the blink of an eye. So whether you're living in a haunted home in Omaha, NE, or a spooky loft in Vancouver, CA, find out how to decorate your home before All Hallow's Eve.
Flowers create impact in a spooky space
When decorating a spooky space for Halloween, don't underestimate the power of the floral department at your local craft store. Adding texture and dimension to any standard Halloween décor will make it extra spooky and have a huge impact. This year I added moss and the branches of different Halloween sprays (from Michael's Craft Stores) to my centerpieces to create a whimsical witchy look and paired it with crystals and bone-shaped marbles. (All from the floral department at Michael's.)
– Sarah Gosnell, Going Gosnell 
Mix nature and crafts for the perfect Halloween home décor
My favorite way to decorate for the spooky season is to mix crafted and natural elements. Hydrangea blooms brought in from the garden and dried are the perfect fall décor paired with a cute DIY felt ghost banner. Style a bookshelf or mantle with these plus a few candles for a fun, family-friendly, Halloween display.
– Laura Nightingale, Owner & Maker at The Yellow Birdhouse
Reimagine and reuse what you already own
Before you run to the store to buy expensive decorations, try to reimagine how items you already own can be paired together to create a festive theme. If you still need a few filler items, the Dollar Store is your new best friend.
– Erika Conner, Olive & June
Add a personal touch to your Halloween décor
Use what you have around the home to save you money and give your Halloween décor a more personal touch. You can put candy corn and gummy eyeballs into vases to make spooky canopic jars or use sharpies to draw spiders on glasses to make your own Halloween glasses. There are so many ways to use the things around your home to make Halloween just that bit scarier!
– Emily Wells, Love, Em
Decorate from your own closet
The spooky season can sometimes feel a bit daunting thinking about capturing your treating audience. At Bindle & Brass, we have created minimal to the most elaborate porches and feel the best way to approach decorating begins in your closet. Pull out the old planters that have wilted away, give them a coat of paint, wedge some tall birch branches into the soil, cover the ground with some creepy crawlers and adorn the branches with bat cutouts. If you have more time, we love a witchy entrance, embellished with some of your pointy heels, silly hats, fun signs, and of course the broom, with the pumpkin or apple scented ones, it's sure to draw in those little pretties.
Thrifting is your best friend
Go all out this Halloween season by thinking outside of the box and getting creative with thrifted finds for DIY projects at your local Goodwill. When walking into a Goodwill store for Halloween décor, seek out vintage items such as candlesticks for creepy candelabras, dark-colored books, hutches you can spray paint black, unique glassware, and more. The key to a thrifty and sustainable Halloween look is to let your creativity flow and get crafty.
– Goodwill Industries of Central Oklahoma
Create cloche ghosts
Place a battery-operated candle inside the cloche. Then simply cut holes for eyes and mouth on a flour sack dishtowel and lay over the top of your cloche or bell jar. Don't have a cloche? Use a glass vase. Just flip it upside down.
– Beth Lewis, Olde Tyme Marketplace
Get creative while keeping on budget
I like to stay within a tight budget when I decorate for Halloween. Use some toilet paper and wrap your front door like a mummy. Get some huge googly eyes from the dollar store and for $1 you have a spooky front door.
– Tracy Graham, Our Signature Swag
Tiered trays are a great way to add holiday décor
And they don't take up a ton of space. Decorate it with mini pumpkins, holiday theme mini pieces like ghosts, candy corn, a sign that says BOO, add spiders and webbing, and a little greenery to fill it in! Then change it out for each holiday.
Keep fog from escaping your front yard cemetery
A fog machine sounds like a great addition to your decorative Halloween graveyard until you find the fog quickly dissipates into the grass. To keep fog contained, place a short plastic picket fence around the graveyard and wrap it with plastic wrap, then hide the plastic wrap with thinly stretched spider webs. Pointing the fog machine into the cemetery, the fog should be contained as low-hanging mist, now less disturbed by the wind and restless spirits.
Create a scary pumpkin witch
First, I spray painted the pumpkin green, then carved her scary face. Finally, I added a few warts for effect. Fill a cauldron with red-colored water, add a water pump and pump the water through the pumpkin's mouth. Via a hole in the back of the pumpkin. I added dry ice for a smokey effect. Dress up your scary witch with a wig, some stockings, boots, and a frightening hat.
– Wendy McMonigle, WM DEsignhouse
Thrift for your décor finds
When it comes to Halloween the thrift store is your best friend. Go in to get old clothing to add an authentic flair to your costumes. Also, get older items like curtains that you can tear or stain with red paint as blood. It should be your first stop for haunted houses, Halloween costumes, and Halloween decorations.
Choose sustainable and handmade Halloween décor
Are you ready for Halloween? Why settle for something regular and uninteresting? Whether you prefer more extravagant or modest décor, start with pumpkins. There isn't such a thing as Halloween without pumpkins. Normal pumpkins often go stale, smelly, and don't come in the color and sizes you want. How about pumpkins where you choose the sizes, colors and will last you for a lifetime? You'll have your own personalized pumpkin patches. And if you want a giant pumpkin, we have a treat for you. Not only is the giant pumpkin beautiful, but serves its functional purpose as a cat bed. A perfect place for your cat to nap and rest. Now you never have to let your cat miss out on Halloween.
Garlands have to be the simplest and fastest approach to décor, but they pack a punch. Don't underestimate the presence of Halloween vibes garlands create. The best way to welcome your guest is by hanging this adorable Halloween wreath. This wreath's versatility is unrivaled; use it as a shelf decoration or hang it on the wall. The felt decors are 100% handmade by Nepalese women who belong to a marginalized community. Shop sustainably with these impeccable handmade home decors that are suitable for everyone.
Don't overthink your Halloween style
Onesies are great and popular choices right now because they're comfy, easy, and make for a great Instagram picture. Such as the unicorn or panda unisex onesies. Plus they're a fun way to keep warm on cold days beyond the Halloween season.
Create your own climbing spider décor
The YMCA is committed to welcoming and serving all, and this spooky craft project is designed to be made of materials most families already have in their homes without requiring a special purchase.
Supplies You'll Need:
Construction paper or scraps of scrapbook paper
Plastic drinking straw
Glue and tape
String or yarn
Scissors
Optional: beads, googly eyes
Directions:
Cut a circle from construction or scrapbook paper. This paper will be your spider's body.
Cut 8 spider legs from paper and glue or tape the legs to the body.
For the face, you can either use googly eyes or cut eye shapes from construction or scrapbook paper.
Glue the eyes to the body.
Next, flip your spider over.
Cut two sections from the drinking straw that will fit on the back of the spider.
Tape the two straws onto your spider's back. It'll work best if they're at a v-shaped angle to each other.
Thread the string or yarn through both straws. You can add a bead to each dangling end of the string, or just tie a big knot to keep the string from slipping back through the straws.
The spider's done! Now you can hang the looped part of the string over the doorknob. Pull the string ends apart to make the spider go up and down to give someone a spooky fright.
– Lisa Young, Hays Communities YMCA Youth and Family Director, Austin YMCA
Originally published by Redfin