September 8, 2021
Thinking Outside the Box: Making a Festive Fall Barn
Making a Festive Fall Barn
By Jess Galvan, Local Artist, Creator & Goodwill Treasure Hunter
I wonder if there is a support group for people that feel the need to buy a new television every time a bigger, better TV comes out (in this case, the black pixels are some sort of magical truer black than ever before). If you know of such a group please send me the contact info, I know a guy who will be their most valuable member.
That's how this all started really. Every 2 years, at least, we have a giant TV box just sitting in our garage. It sounds odd to say out loud, but I couldn't just let this giant box of the perfect craft cardboard and ideas just go to the trash.
Seeing store window displays, businesses having holiday decorating contests, and teachers saving money by making their classrooms festive helped the ideas along. Suddenly I find myself trying to explain to people why you'd want to save your recycling this week. If you don't have a TV box laying around, believe me, if you ask around someone does. I can't tell you how many text messages I've gotten asking if I need a tv box.
Thinking Outside the Box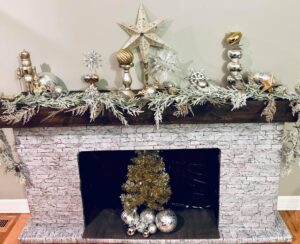 These projects are easy, starting with a big rectangle blank slate that already stands on its own leaves so much to the imagination. It can be as basic as you want, and with the right accessories, it can also be as extra as you like! I'd be lying if I didn't tell you that part of me loves these kinds of things because, as silly as it may sound to some people, I like to use my imagination and just make stuff sometimes. No rhyme or reason except I want to. It's a fantastic bonus that I get paid to do that.
Last year I made a faux fireplace for Christmas. Perfect for the room that needs more than a Christmas tree. With a simple square cutout wrapped in brick print paper you can buy at any craft store- you could stop there and be done in literally minutes! I used some of the foam from inside the box to make a hearth by wrapping it in paper along with the mantle, which I just stuck on some leftover peel and stick wood look flooring to. The cost for this was approximately $9, had I needed to buy the paper and leftover flooring.
This year my TV box turned into the cutest little red barn! Ideal for both fall and winter themes if you ask me. Also, downright stinking cute for pictures with little people or pets!
Again, I spent zero dollars on this project since I save leftovers from other projects, and I buy assorted supplies at Goodwill or craft stores on clearance. Some say it's a hoarder mentality, but I say I can use that. Even if its three years and four months after I bought it, I'm using it.
Let's Build a Barn!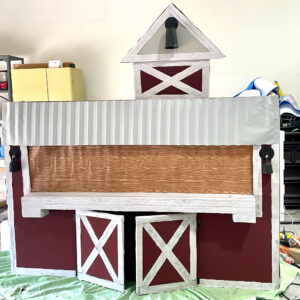 This time I slapped a coat of paint on the entire front, and a coat of paint on two canvases I grabbed a while ago for another project, secretly hidden away in the top of my son's closet. (I put things there knowing full well the kid isn't going to clean it, and the husband isn't brave enough to venture in and rummage through the closet of a 13-year-old boy.)
Digging for the canvases, I found a leftover piece of paper blinds, and somehow it was the perfect size and texture to look almost like a tin roof.
I used a portion of the front cutout to make the dormer and roof on top, gluing it to the backside so it gives it a bit more depth. But of course it could be added to the front if you wanted a flat back to go directly onto a wall.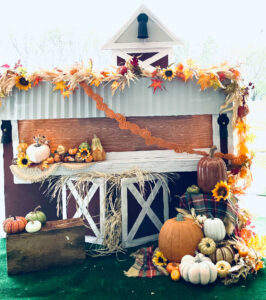 I used small hinges from old cabinet doors to attach the canvases to the front for the doors. The fake lights on the front are plastic wine glasses and a Solo cup for the top one. I didn't have a hay bale handy, so the table skirt from a Hawaiian themed party of the past worked out great to fill in the area where the little barn doors open. Finished off with paper and a wood print cut into strips for the trim.
Like any other project after you're finished, you add the accessories to match the theme you're going for. Fall starts this month so naturally that's the theme I chose for now. This little barn would look equally if not more adorable decked out in winter and Christmas décor. So I think I'll have to do that too just to take some photos of it.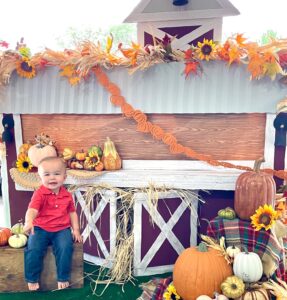 Don't forget to send your photos of your project! And remember if you have questions about this project or ideas for future ones contact me!
Instagram: jessgalvan8
TikTok: @jessgalvan8
Facebook: Jessica Galvan