May 31, 2023
Round it up for Special Olympics


In March, you can support Special Olympics Nebraska's School Programs
Goodwill Omaha is excited to announce the first recipient of our 2023 Round It Up program, Special Olympics of Nebraska.
From March 1 through March 31, 2023, shoppers of Goodwill stores will have the option to round up their purchase total to the nearest dollar, with the extra amount going towards supporting Special Olympics programs in our community.
Special Olympics Nebraska aims to end discrimination and create a future of justice and joy for over 6,000 individuals with and without intellectual disabilities across Nebraska through sports, health, education, and leadership. Their school program promotes inclusion, participation, and leadership through sports training and competition, inclusive youth leadership, and whole school engagement. They partner with 230 schools across Nebraska.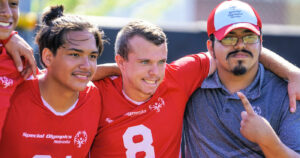 The Goodwill Round it Up program coincides withthe Special Olympics March 1st. Spread the Word:  Inclusion Day,an annual day of awareness that promotes acceptance of people with intellectual and developmental disabilities, and people are encouraged to spread the word throughout their communities and schools.
We encourage all Goodwill shoppers to support this worthy cause by opting to Round It Up at checkout and by joining us in spreading the word about inclusion in our community.
"Goodwill holds campaigns like this throughout the year to benefit other nonprofits in our communities," President & CEO Tobi Mathouser said.  "It's a way to give back to the communities and partners who support Goodwill and our employment programs." "Together, we can make an impact and a difference in the lives of individuals with disabilities."
'Round It Up' To Support Your Community
Several times a year, Goodwill Omaha gives our shoppers the opportunity to support a smaller nonprofit by rounding up their purchases to the nearest dollar or higher. We donate all of the rounded-up money to the selected nonprofit.