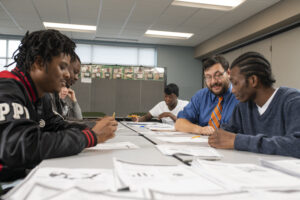 Let's Get Real
Relevant Education About Life (R.E.A.L) is a youth outreach program that contains age-appropriate real-world  life-skill sessions. We collaborate with community partners to facilitate after-school programs focusing on 21st-century skills like critical thinking, communication, collaboration, decision-making, problem-solving, teamwork, and digital and financial literacy.
Our R.E.A.L enrichment program is a comprehensive program that contains age-appropriate life-skill sessions such as:
REAL Kids (6-8 grade): Includes hands-on activities focused on 21st-century skill building.
REAL Teens (9-12 grade): Begins with a lecture by the facilitator and includes an activity.
REAL Talk (9-12 grade): Individuals provide personal insights by sharing stories about their journey.
Each session has eight classes with one hour's worth of content. Students discuss their activity findings and answer questions through pre/post-tests.
To book an outreach session for your after-school programming, please contact us using the form below
Contact Form
"*" indicates required fields