October 22, 2021
Halloween Porch Decoration
Halloween Porch Decoration
By Jess Galvan, Local Artist, Creator & Goodwill Treasure Hunter
This Halloween project is for the people who always say they can't do DIY because they don't have the time (or the creativity). It's also for the ones who spend $50 and nine hours to make something you could have bought for 15. This was under 5 dollars and 30 min for both of them.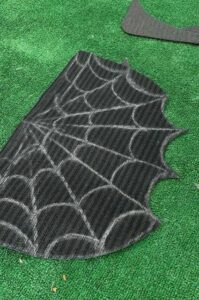 With this in mind, I did stop myself from buying and connecting six of these to make a giant spider web rug! But, we ain't got time for that today. And I don't have a giant front porch, so I ain't got the space for that either. These are a great smaller size, but you could do more than one for a larger area as well. This size would be perfect for under the pet food bowls and the fur babies get a cute little peek of Halloween on the floor too.
Supplies needed for this project:
Dollar store rug(s)
Scissors
Chalk
Acrylic paint
Paintbrush (You could skip the brush and just use a paint pen too)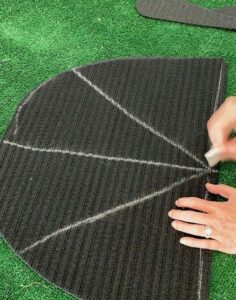 Start by folding your rug in half horizontally draw a half circle and cut outside edges off. If you're like me and somehow grabbed the dullest scissors since scissors were created, because your children have used them to cut something that involved a glue of some sort, you'll probably need to do each side separately. Using your cut side as a guide while still folded, cut the other half.
When you open the rug it'll be a semi-circle. Then using your chalk you'll make a pie chart of sorts or half a pizza I guess? I like pie so we're going with pie. WEDGES! That's the word I was looking for. One line down the middle-ish, then make a wedge pattern on both sides. Between the wedges make your arches. Chalk is awesome for this because you can just rub your hands over the area you messed up and start over.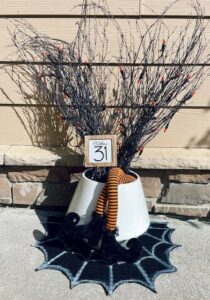 After your spider web is to your liking, cut the outer edges up to your arches along the bottom edge then paint over your chalk lines. Rub off any excess chalk and you're finished! See? I told you it was super easy.
Instagram: jessgalvan8
TikTok: @jessgalvan8
Facebook: Jessica Galvan