Your Donations Change Lives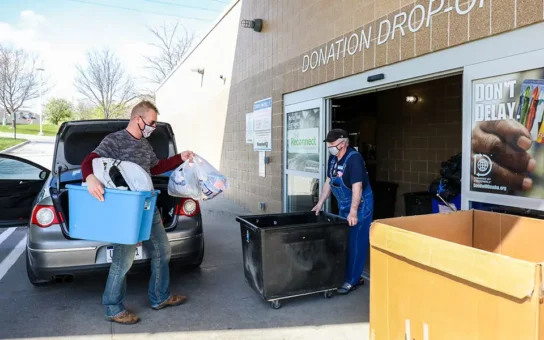 When you donate your gently used goods in Goodwill Omaha's retail stores, the revenue we generate from selling those items goes directly toward supporting our mission.
That means your donations have a direct impact on helping neighbors right here in our community get access to job training and placement programs, so they can find a new sense of independence and purpose.
Donation Guidelines
| | |
| --- | --- |
| | We Accept The Following Items In Good, Gently Used Condition: |
Accessories
Back Packs, Belts, Billfolds, Boots, Gloves, Hats, Hip Packs, Mittens, Purses, Sandals, Scarves, Shoes, Ties
Books
Hard Cover, Paperback, Textbooks, Magazines
Clothing
Blouses, Blazers, Business Suits, Coats, Denim, Dresses, Flannel/Insulated Shirts, Jackets, Leotards, Night Gowns, Pants, Robes, Shirts, Shorts, Skirts, Sweaters, Swim Suits, Tights, Uniforms, Vests
Collectible Antiques
Computer and Computer Equipment
Electronic Entertainment Equipment
Flat-screen TVs (no CRT/tube TVs), CD Players, DVD Players, Game Systems, Portable Stereos, Radios, VCRs, Walkmans
Exercise Equipment
Aerobic Steps, Free Weights, Mats, Nordic Tracks, Roller Blades, Stationary Bikes, Stair Climbers
Furniture
Bedframes-Head/Foot Boards (complete), Chairs, Coat Racks, Coffee Tables, Dinettes, Dressers, End Tables, Floor Lamps, Kitchen Tables, Love Seats, Mattress and Box Spring, Recliners, Sofas, Table Lamps
Hand Tools and Small Power Tools
Air Tools, Buffers, Circle Saws, Drills, Hammers, Sanders, Screwdrivers, Table Saws, Wrenches
Household Decor & Accessories
Bedspreads, Blankets, Area Rugs, Comforters, Curtains, Pillow Cases, Sheets, Towels, Valances, Wash Cloths, Baskets, Bells, Bowls, Clocks, Framed Pictures, Mugs, Paper Weights, Vases, Tins, Trays, Wicker, Wreaths

Jewelry
Bracelets, Earrings, Necklaces, Pins, Rings, Watches
Kitchen Appliances & Utensils
Baking Pans, Blenders, Dishes, Bread Makers, Coffee Makers, Hand-Held Mixers, Food Processors, Ice-Cream Makers, Juicers, Table-Top Mixers, Toasters, Utensils
Miscellaneous
Eyeglasses, Ironing Boards, Lawnmowers (w/o fuel), Leaf Blowers (w/o fuel), Luggage, Records, Shades, Strollers, Tapes, Typewriters, Vacuums, Weedwackers (w/o fuel)
Outdoor Furnishings
Benches, Chairs, BBQ Grills, Folding Tables and Chairs, Gliders, Lounge Chairs, Patio Sets, Tables, Umbrellas
Seasonal Items
Artificial Christmas Trees, Wreaths, Holiday Decor
Sports/Outdoor Equipment
Baseballs, Baseball Gloves, Bicycles, Children's Swimming Pools, Footballs, Football Equipment, Golf Clubs, Golf Bags, Kickballs, Ping Pong Tables, Pool Tables (small), Racquetballs, Racquetball Rackets, Soccer Balls, Tennis Balls, Tennis Rackets, Tricycles, Wagons
Toys and Games
Board Games, Outdoor Games, Puzzles, Stuffed Animals, Fisher-Price®, Little Tykes®, Playskool®
Sorry, We Cannot Accept:

Due To Federal And State Guidelines, Environmental Reasons, And The Fact That Items In Poor Condition Are Unable To Be Sold, Goodwill Unfortunately Cannot Accept Certain Donated Objects.
All Personal Care Items
Appliances, Air Conditioners, Garbage Disposals, Refrigerators, CRT / tube TVs, Washer/ Dryer, Dishwashers
Hazardous/Automotive Waste
Additives, Antifreeze, Bottled Gas, Gasoline, Lead Acid Batteries, Motors, Oil, Oil Tanks, Tires, Used Parts
Household/Garden Chemical Products
Household Carpet, Pesticides, Paint, Paint Thinner, Drain Cleaner, Oven Cleaner, Aerosols, and Environmentally-Unfriendly Waste Products, All Cleaning Products
Household Items
Bathtub Enclosures, Bed Springs, Car Seats, Central Heating/ Cooling Units, Console Stereos (over four feet), Cribs (with large spaces), Cabinets (built-in), Fluorescent Light Bulbs, Food, Furnaces, Hide-a-Beds/ Hospital Beds/Sofa Beds/ Water Beds, Mirrors without Frames

Miscellaneous
All Vehicles including Boats/Cars/Truck Toppers, Car Seats, Ceramic Molds/ Kilns, Commercial Salon Hair Dryers, Fire Extinguishers, Items on Product Recall Lists, Play Pens, Swing Sets, Pianos, Organs
Office Equipment
Industrial Copy Machines, Desks (metal or extra large), Large Office Machines, Telephone Systems
Outdoor Items
Awnings, Chain Link Fences, Clothesline Posts, Lumber (used), Paneling, Railroad Ties, Storm Windows/Doors
Plumbing
Fixtures (used), Guttering/Down Spouts, Pipes, Sump Pumps
Weapons
Firearms/Ammunition
Donate Your Gently Used Items Today
Our convenient locations make it easy for you to donate. Find a donation center near you and drop off your gently used items today.