July 17, 2018
United Way of the Midlands Awards $37,578 to Fund YouthBuild Omaha
United Way of the Midlands Awards $37,578 to Goodwill Industries, Inc. Grant to Fund YouthBuild Omaha
Goodwill Industries, Inc., Serving Eastern Nebraska & Southwest Iowa is pleased to announce it was recently awarded a $37,578 grant from United Way of the Midlands. Thanks to the generosity of the United Way donors, Goodwill's YouthBuild Omaha Program is able to provide another year of intensive vocational and life skills training to individuals in our community.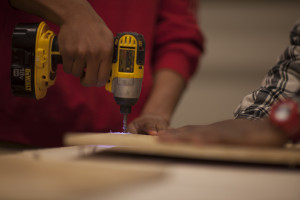 YouthBuild Omaha is a program for young adults, ages 16 to 24, who have struggled with school.  Many of these young people do not have a high school diploma, and are looking to make a positive change in their lives.  YouthBuild Omaha's mission is to equip young people with the tools to make healthy decisions.  The program combines classroom learning and hands-on construction experience. YouthBuild Omaha members spend half their day in the classroom preparing to take their GED tests, and the other half working with local non-profits that build and renovate homes, learning construction skills and giving back to their community.
By integrating academic, vocational and leadership activities, YouthBuild Omaha offers a unique project-based learning model for members. The learning experience is individualized, intensive and designed to replicate the professional work environment. Members identify their skills, barriers and career interests and follow individual development plans. They work towards continuous improvement in five key behavioral areas – attendance, communication, positive workplace behavior, conduct and follow-through.
This is the first of a two-year commitment United Way of the Midlands has made to maintaining and enhancing YouthBuild Omaha.  This support has allowed Goodwill to increase services provided to the young adults enrolled in the program, and introduce innovative new learning processes.
"United Way's support for this program is greatly appreciated by Goodwill and the YouthBuild Omaha program, and many lives will change in a positive way, thanks to all who made a contribution," said Dr. Michael McGinnis, CEO and President of Goodwill Omaha.
About United Way of the Midlands:
Thanks to donors, volunteers and community partners, United Way of the Midlands is not only focused on addressing our community's human needs today; it is focused on what can be and what should be. It is building on today's strong partnerships to create even more comprehensive human service efforts tomorrow, so our community can solve some of the root causes of poverty. United Way of the Midlands is community-based, community-focused. Thanks to those who share their strength, United Way of the Midlands is COMMUNITY STRONG. Please visit UnitedWayMidlands.org for more information