Explore Jobs in Retail
The Goodwill Omaha Retail Sector Training Center offers comprehensive short-term training programs for people interested in retail jobs. The retail sector training program includes classroom learning and hands-on job training at Goodwill Omaha locations. The program makes use of our long-standing expertise in skills-building and employment assistance. Trainees are supported throughout their time at Goodwill, from their hours in the classroom to their hands-on training at our properties.

Goodwill Omaha's Approach

Our retail sector training program combines material from the National Retail Federation (NRF) with our own proven curriculum for job readiness and employability. Trainees are then able to put information and skills they obtain into practice at Goodwill Omaha locations.

Training That Leads to Employment

Goodwill Omaha provides job placement services for all individuals who successfully complete the retail sector training program. Goodwill currently works with a group of employment partners committed to the retail sector training program and will work with participants to find the right employment fit when they complete the program.
Retail Sector Training Schedule
4 weeks; 4 hours per day (80 hours total)
Approximately 20 classroom training hours
Approximately 60 hours of hands-on training hours at Goodwill Omaha properties, paid at minimum wage
Hands-on training begins in week one; hands-on training increases during week three to 20 hours a week, continuing at that level until the end of the program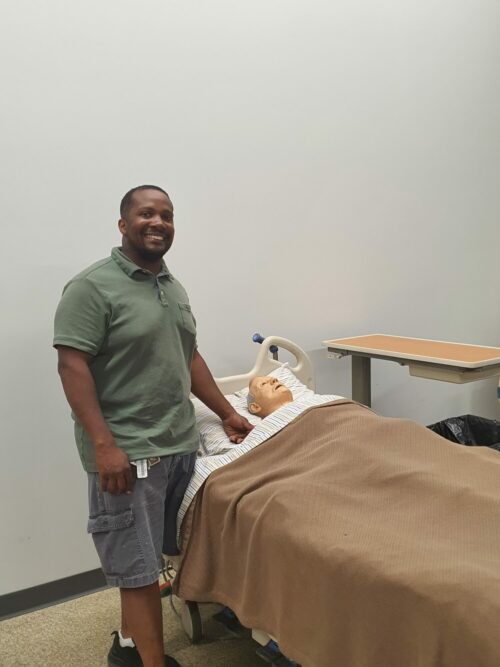 Access to Job Training & Placement Changes Lives
Meet people who have found purpose and fulfillment by participating in Goodwill Omaha's Employment Solutions program.
Chris' Story
Chris is familiar with Goodwill programs and has utilized services since he was a young adult. He recently returned to Goodwill for CNA training and is now enjoying a career in healthcare.
Apply to Goodwill Omaha's Retail Sector Training Center Today
Ready to take the next step toward a more stable and rewarding career? Apply for our retail sector training program. Our team is excited to work with you! If you have questions, please reach out to us.