President & CEO Update

I am excited about the opportunities in front of us in 2023! We have completed our strategic plans and are already working towards several goals. During this upcoming year, we will remain focused on a couple of very important things:
Advancing our mission programming. With the opening of the South Omaha location our hope is that we will nearly double the amount of people served in our mission programs! We will further our mission programming by gathering community data to identify the needs and gaps of communities where we don't have a presence.
Preparing for organizational growth. We are growing and we need to make sure that the needed infrastructure and resources are in place to help us do that successfully!  We will continue to look at our warehousing needs and evaluating the best option to expand our footprint.
Sustainability.  Goodwill has been recycling gently used items for 90 years in the Omaha area and we take pride in the fact that we are one of the original recycling agencies!  But what more can we do? As an organization focused on sustainability, we will continue to strengthen our reuse and recycling supply chain, maximize our environmental impact and determine how we can become an even better steward of the items donated to us!
In January, we opened our 15th retail store located at 3505 L Street!  And in April, the connecting training center will open. We will celebrate this amazing accomplishment with a grand opening event once we have an official open date.  More to come!
We care about the communities we serve and we will continue helping other nonprofits through our Round it Up quarterly campaign. Special Olympics of Nebraska will be the first recipient in March, Abide Network in June, Heartland Hope Mission in August, and Generation Diamond in October.
These opportunities for growth would not be possible without all the efforts of our employees. Your well-being and advancement are important to us and we continuously work toward a culture where employees feel valued. This year, we will be working on a plan to offer additional training for development.
Because of your hard work, we were able to support employment for over 660 individuals and put $1.985 million towards our mission programs – helping thousands of individuals in our community.
Thank you for all your hard work in support of our mission!
Tobi
Our Community Impact
We're humbled to have helped thousands of individuals in the Omaha area earn a living over the years. In 2021 alone, here's how our mission came to life:
2,374

People Served by Employment Programs

$15.00

Average Hourly Wage of Goodwill AbilityOne Program Participants

25,464

Employment Services Provided

$1.985 million

Total Retail Revenue That Supported Job Training & Placement Programs
MANAGER OF THE QUARTER
It is a great pleasure to announce that Goodwill Omaha's 2022 Quarter Four – Manager of the Quarter is Angela Houser! Angela joined the Goodwill family in July  2007. Through her hard work and dedication, Angela has received several promotions since then, including Assistant Store Manager, and her latest promotion was  Retail Store Manager of Fremont in 2011. She is currently the Retail Store Manager at our Papillion Store.
EMPLOYEE OF THE MONTH
It is a great pleasure to announce Goodwill Omaha's January Employee of the Month Joe Bain! Joe joined the Goodwill family in January 2021. Joe started out as a Production Associate I and by April, was promoted to the Facilities Maintenance Associate.
Here is what the nominator shared about Joe and why they felt he deserved this award:
"Joe is one of our best employees who always goes beyond his job duties to serve our stores.  His politeness and can-do attitude are reflected in the increased quality of interactions with staff and customers. Furthermore, his patience, professionalism, and helpfulness represent Goodwill's values at its core."
"He is the prime example of a team player and is always willing to help with projects.  Joe always helps with additional tasks in the stores and assists those who need help. Despite having a lot of work, Joe constantly asks how others are doing.  He has excellent communication and teamwork skills that make the workplace a positive environment. During brainstorming sessions, Joe often shares excellent ideas and looks for ways other team members can use their skills to help.."
STORE OF THE MONTH
The 78th & Dodge Goodwill is our February Store of the Month.
EMPLOYEE SPOTLIGHT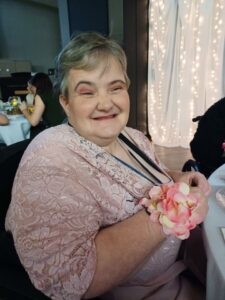 Jessica Boss of the Fremont Goodwill, went to Fremont's Night to Shine Prom.  It's a prom for people with special needs that was founded by the Tim Tebow Foundation. She has been employed at the store since August of 2020.  She's pretty much the face of the Fremont Store.  She always has a smile on her face and people will come in just to see her.
MISSION MOMENT
Chris is familiar with Goodwill programs and has utilized services since he was a young adult. So it is no surprise that he returned to Goodwill for assistance in mapping out a plan to get his Certified Nursing Assistant (CNA) license. Chris was providing home health care to a family member when the home health provider suggested he get his CNA license. When he talked to Goodwill's Employment Specialist, Chris learned about the CNA training offered at Goodwill and administered by Quality Career Pathways. Grant funding pays tuition for individuals wanting to pursue a career in health care.
By offering these classes at Goodwill, individuals also have on-site access to their Employment Specialist, who can assist them in overcoming any obstacles that get in the way of completing the training. Chris was interested in pursuing a career path with more opportunities for advancement and since he had an interest in helping others, this seemed like the perfect fit. Chris enrolled in the CNA program at Goodwill and received his CNA license. He was the recipient of the Regina Bell Award for exemplary classroom achievement and used his monetary award to obtain his medication aide license. At the completion of this training in September 2021, he found employment as a home health aide. He received a raise for his initiative and remains currently employed with this provider. Chris stated, "Goodwill has opened doors and improved the quality of life for my family."
Chris wants to position himself to provide his children with a good life. He is definitely on track to do that. Chris' supervisor stated, "Chris is absolutely amazing. As an employee, he checks all the boxes. He's dependable and communicates well."