President & CEO Update

Greetings Goodwill and Goodwill supporters!
2023 is on track to be a monumental year, and it is because of all of you that we are able to help so many people in our communities. We finalized our 2022 annual report, and in that report, we highlight our services. Last year we provided over 25,000 services, and with the opening of our new South Omaha Training Center, we are well on our way to more than doubling that number. I feel privileged and blessed to be part of leading Goodwill Omaha, an iconic, purpose-driven, and diverse organization where everyone is focused on a community-impactful mission.
We are an organization that focuses on sustainability. We kept 6.7 Million pounds of materials out of landfills in 2022, and so far this year, we are exceeding that pace by 17%. We are committed to strengthening our reuse and recycling supply chain, maximizing our environmental impact, and becoming an even better steward of the items donated to us!
Our customers and shoppers continue to support us. We are up 18% over last year in our donations, and we are out in the community with our trucks collaborating with organizations to highlight our need for donated goods to support our mission. It is working! We have 25,878 more customers this year vs. the same time last year.
We are so grateful to our employees and our customers and donors for supporting Goodwill. With this support, we were able to open our new Retail Store and Training Center at 3505 L Street. If you have not had a chance to see all our new offerings, please look at the new calendar feature on our website that shows the training schedule. All classes are open to the public, including our employees and their families, and they are free. Please take advantage of them if you see anything you like, and please share these offerings with your family and friends.
Thank you for all your hard work in support of our mission!
Tobi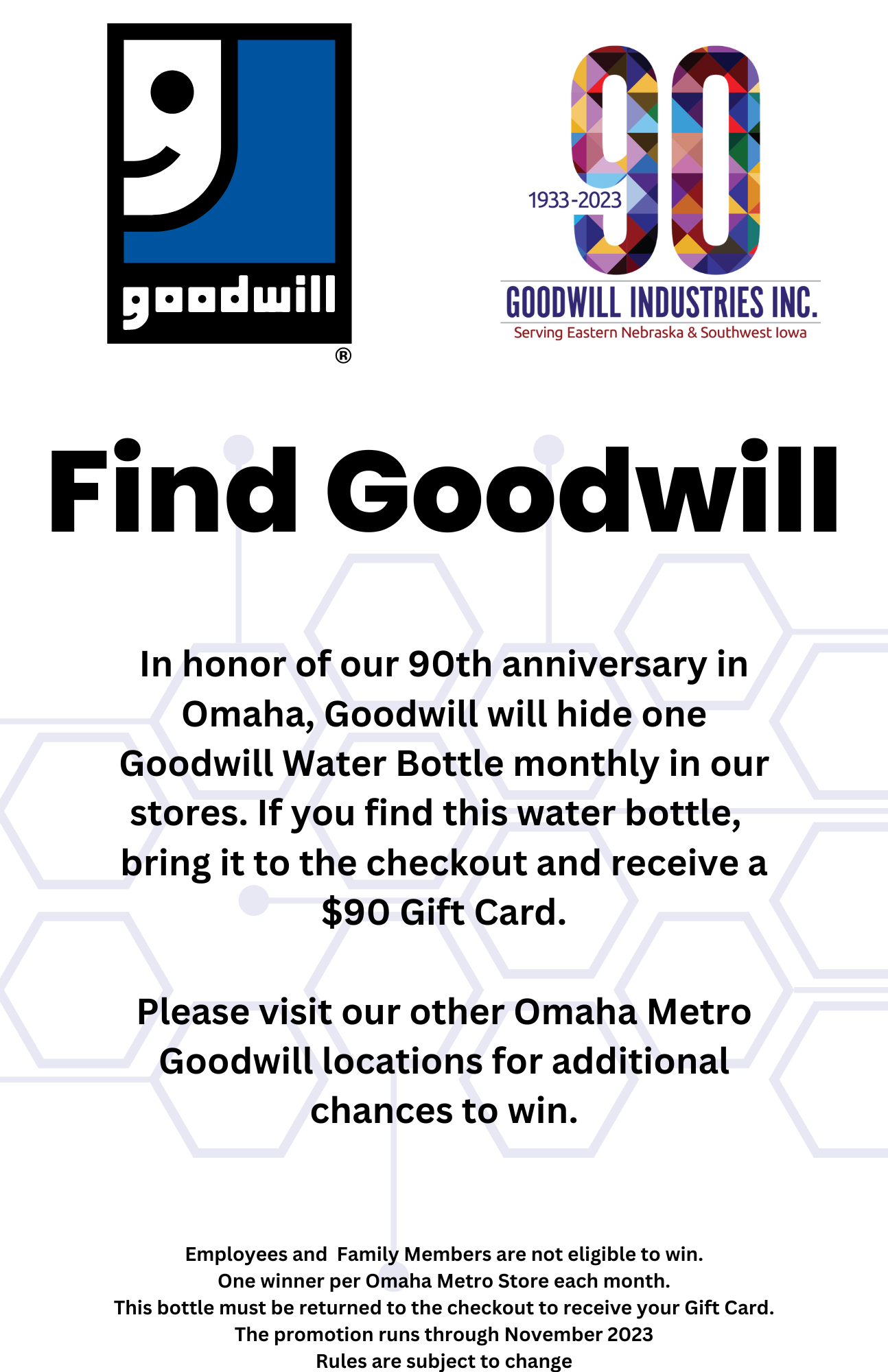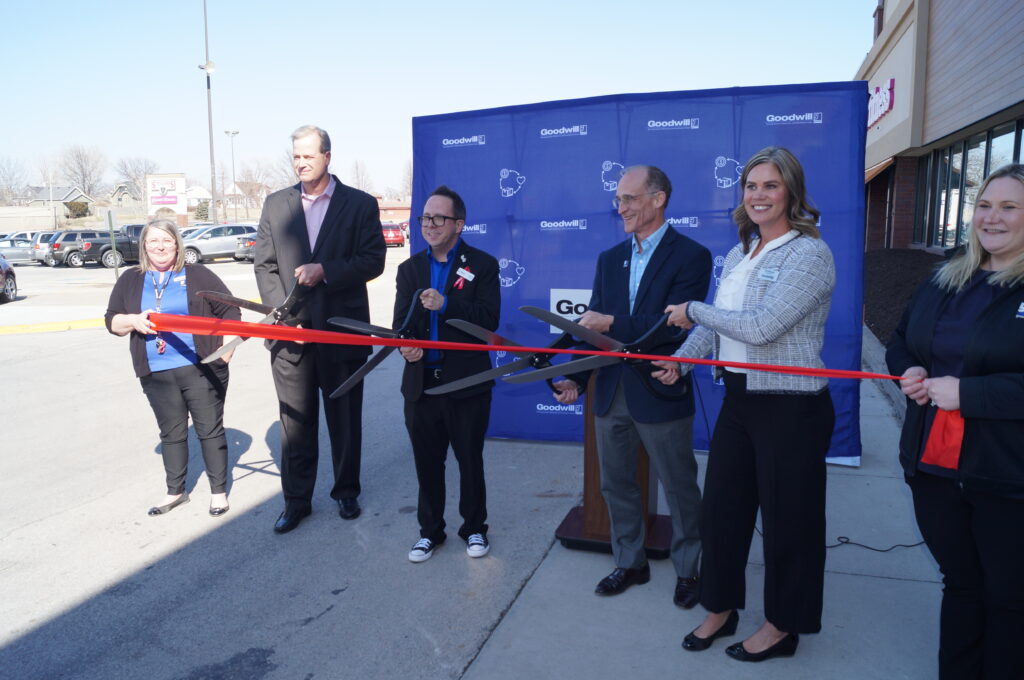 On March 28th, Goodwill Omaha held a Ribbon Cutting Ceremony for the opening of its South Omaha Training Center.
Click the links below to see what local news channels said about the new Training Center.
.
.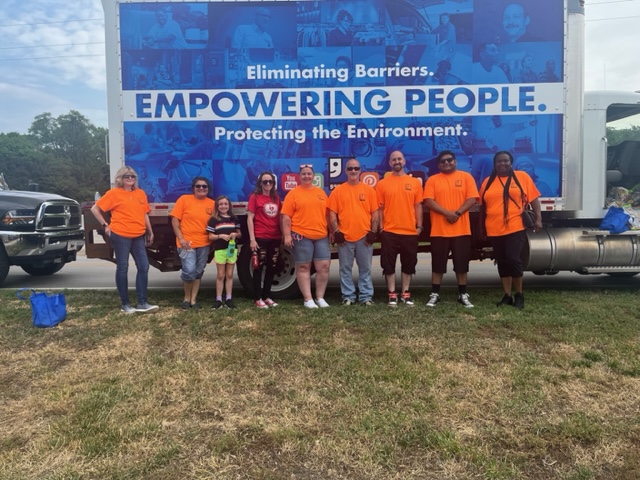 Goodwill At the Elkhorn Days parade. Here are other Community events that you may see Goodwill Omaha attending.
Our Community Impact
We're humbled to have helped thousands of individuals in the Omaha area earn a living over the years. In 2022 alone, here's how our mission came to life:
25,464

Program Participants Services Provided

$15.32

Average Hourly Wage of Goodwill AbilityOne Program Participants

15

School Districts Served through Work Experience

Nearly $1.7 million

Total Retail Revenue That Supported Job Training & Placement Programs
MANAGER OF THE QUARTER
It is a great pleasure to announce that Goodwill Omaha's 2023 Quarter One – Manager of the Quarter is Angela Houser! Angela joined the Goodwill family in July  2007. Through her hard work and dedication, Angela has received several promotions since then, including Assistant Store Manager, and her latest promotion was  Retail Store Manager of Fremont in 2011. She is currently the Retail Store Manager at our Papillion Store.
STORE OF THE MONTH
The Bellevue Goodwill is our August Store of the Month.
MISSION MOMENT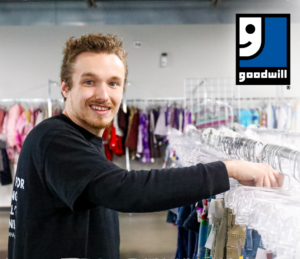 We're featuring Slade in our Annual Report.