February 18, 2022
Kenneth "Kenny" Broom is our January 2022 Employee of the Month
Kenneth "Kenny" Broom is our January 2022 Employee of the Month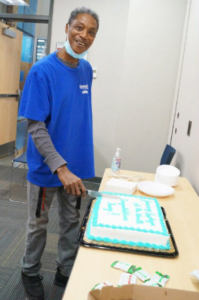 It is a great pleasure to announce that Goodwill Omaha's January 2022 Employee of the Month is Kenny Broom! Kenny joined the Goodwill family in February 2021 as a custodian at the Benson Park administration office.
Kenny was nominated by two different individuals in the same month, a true testament of his hard work and that he very much deserves this recognition. Here is what the nominators shared about Kenny and why they felt he deserved this award.
Kenny is, without a doubt, one of the hardest working employees at BPP, the man never stops working, and is always working with a smile. He makes me feel incredibly welcomed every day by being the first person to say hello to me every morning and is just one of the most genuine and likable people that I have ever met. When I think about what it means to 'realize your maximum potential through work,' I think of Kenny. Kenny is the embodiment of Goodwill's values. If there is a spill or a mess, Kenny is always there to help. He [tends] to his duties with the utmost pride, a testament to his dignity and integrity. Kenny also routinely goes out of [his] way to include YouthBuild students in various projects, which demonstrates responsible stewardship and helps the YouthBuild students learn accountability."
Kenny has often stated that 'he is Goodwill.' Kenny goes above and beyond every single day. If you need something done, Kenny will complete the task at the highest level. Kenny is always polite and willing to help in any way possible."
Kenny will receive eight hours of paid time off plus pizza and cake for his location — and he's now a nominee for the 2022 Employee of the Year Award.
Congratulations, Kenny, and thank you for all your hard work and dedication to Goodwill. Your Goodwill family very much appreciates everything you do.

Erin Blackledge
Director of Human Resources